Sundown, Friday, March 4 to Sundown, Saturday, March 5
Are you ready to join us for the National Day of Unplugging?
Can you take the unplug challenge and put down your cell phone, sign out of email, stop your Facebook and Twitter updates?  If so, sign up here!
For 24 hours, starting at sundown Friday March 4, 2011, people across the nation will reclaim time, slow down their lives and reconnect with friends, family, the community and themselves. Can't resist the temptation? We've created cell phone sleeping bags.
The Sabbath Manifesto's principles were created for individual styling, but for one day we are asking you to take on the challenge of Principle Number 1: AVOID TECHNOLOGY.
Now what?
Click here to learn about the Ten Principles.  Need more unplugging advice?  Check out NDU FAQs.
For a full list of Community Partners hosting events click here.
Click here to view the National Press Release and the San Francisco Bay Area press release.
Follow us on Twitter and Facebook
Tell your friends you're taking the Unplug Challenge: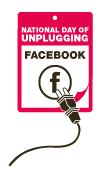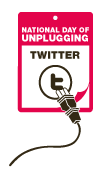 Tell your friends you're checking out for the National Day of Unplugging. Create your own Sabbath Manifesto. Enter your phone number below and we'll send you a link to the Sabbath Manifesto App.
How do you unplug?
Since a film we're working on explores what it means to be "connected" in the 21st Century, we made "Yelp," to suggest how disconnecting can be just as much fun as connecting. We're ready to power down with y'all Friday night.
- Tiffany Shlain (Filmmaker & Founder of The Webby Awards), Ken Goldberg (Professor & Director of the Berkeley Center for New Media), www.connectedthefilm.com
"We live in a world of endless information flow.  Bits and bytes are our food and water. They move back and forth at a deafening pace.  In this world of boundless stimulation and interaction, how does one disconnect, reflect, take stock?  One of the defining elements of this information economy is it's social, connected nature, where we both put out and consume information as part of our shared human experience.  For me, it is the information intake that when left unchecked tends to overtake me.  Setting aside a fixed weekly time for contemplation, whenever and for however long it is, allows me to disconnect and refocus internally.  Then, what I put out more closely reflects my true 'self' rather than tending towards a boomerang-like reflection of what I take in.  This return to self is my Sabbath, my peace, a chance to reconnect with my inner thoughts and light."
- Mo Koyfman, Spark Capital
"I am happy to be connected all day on my Dell Lattitude Z and Blackberry, but I relish turning them off, too. Throughout the year I take long periods where I turn off all technology. I think its critical to do that…. Recently I have tried isolating my time on the Blackberry to when I am work"
- Marc Benioff, Chairman and CEO of Salesforce.com
"There's clearly a social problem when we're interacting more with digital interfaces than our fellow human beings. Rich, engaging conversations are harder to come by than they were a few years ago. As we voyage deeper into the digital world, our attention spans are silently evaporating. Unplugging on a weekly basis won't provide a magical solution to these issues, but it's a start. Adding a modern Sabbath will ideally reward with the same riches this ritual has provided for centuries  – a chance to catch our breaths, replenish our souls and reconnect with the living, breathing people we love."
- Dan Rollman, President of URDB.org